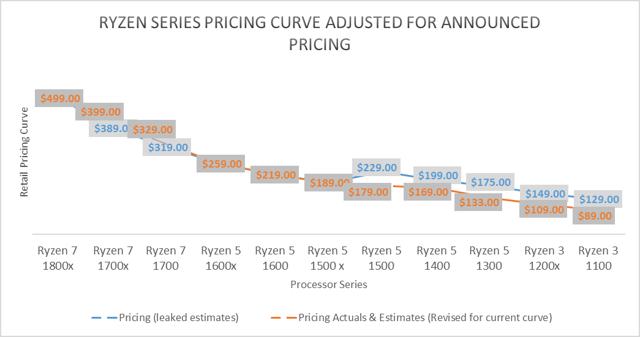 Summary
Recently announced Ryzen 5 series pricing suggests better pricing mix in the volume segment of the PC market.
AMD's pricing strategy is very aggressive, and if Intel were to match AMD's current pricing curve, it would diminish Intel's gross margins too substantially.
Furthermore, we anticipate better than expected MPU share gains versus Intel, because of lower-end MPU pricing, which still impact AMD's gross margins favorably.
Recent price action looks bearish, when viewing the pricing data in isolation. But, given the near-term impact of AMD's earnings release, we would be buyers here.
As such, we maintain our positive stance on AMD, despite volatility leading into Q1'17 earnings announcement.
Read complete article here:
AMD Set To Drop Or Rally Into Earnings? – Advanced Micro Devices, Inc. (NASDAQ:AMD) | Seeking Alpha.