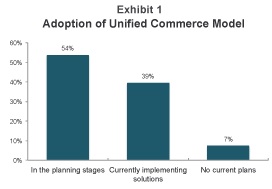 Real-time and contextual marketing efforts, customer-based pricing and product availability across all channels and locations are some of the key features of a unified commerce strategy, said Ken Morris, a principal at Boston Retail Partners. "If I need a size 11 brown boot and you only have a size 10, you can tell me where that boot is and deliver it to my house, maybe the same day," he said.
Read complete article here:
Forget Omni-channel – Retailers Move to Unified Commerce Model.