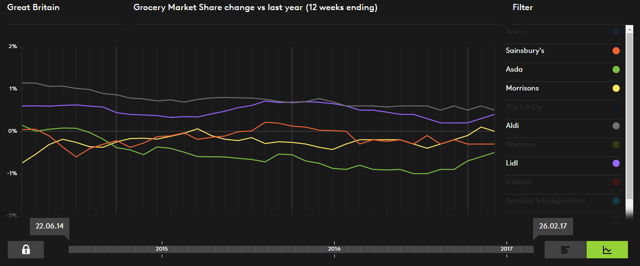 Wal-Mart (NYSE:WMT) is making additional investments in its pricing strategy to ensure it remains the most affordable retailer within the U.S. A recent price comparison by Reuters in five cities for a basket of 15 items showed Wal-Mart offering the goods at 5% to 10% cheaper than Aldi. Wal-Mart's new pricing strategy is being used in at least 1,200 stores within the U.S. A couple of months ago, a similar pricing comparison showed Wal-Mart's prices were 20% to 40% higher than Aldi's.
…
Current Pricing Strategy
Wal-Mart has always been a price leader among other discount retailers. However, in the last few years Aldi has been able to beat Wal-Mart on the price front by offering more private label options and limited choices. Although Wal-Mart is still by far the biggest retailer, it is growing at a much slower pace than Aldi. Wal-Mart has cornered 22% of the grocery market in the U.S. and is currently growing at 2%. On the other hand, Aldi has 1.5% of the market, but it's growing at 15% annually.
Read complete article here:
Impact Of Pricing War On Wal-Mart – Wal-Mart Stores, Inc. (NYSE:WMT) | Seeking Alpha.