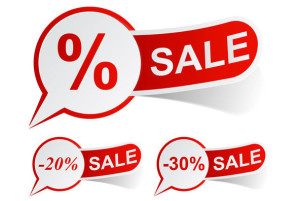 Sanjeev Sularia, CEO of retail analytics leader Intelligence Node, looks at why real-time pricing optimization is now the only sales strategy that makes sense.
The days of the dramatic markdown for the online shopper between "this price right now" and the "real" price are over.
There used to be a time when all e-commerce retailers attracted buyers with "list prices" or "official prices" and would claim to slash discounts to get a sale.
The end result was that it became impossible for the customer to bear any kind of non-discounted price for anything on the internet. We all know this in retail, but our real-time database has been telling us this with hard numbers. We monitor 130,000 brands across 1,100 categories; and in North American sales, only a minority of items ever sold at list price — and never north of 45 percent. In some categories, like precious stones and  gems, camera accessories, bakery products, baking ware — all the way to food cupboard staples like sauces, marinades & dressings, ready-for-consumption frozen and pet-care merchandise — only one in 10 purchases ever sold at list price.
In any case, this manic online discounting culture has caught the attention of the authorities. Mentioning any centrally fixed price you are undercutting is becoming "a sales tactic that is drawing legal scrutiny, as well as prompting questions about the integrity of e-commerce," according to a New York Times article earlier this year.
Read complete article here:
In a Real-Time World, the List Price Has No Relevance – RTInsights.