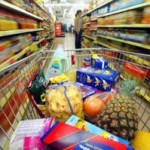 This intensified price competition is driving a gap between channels, as operational and financial constraints leave bricks and mortar stores unable to update prices at the shelf edge as quickly as online. The disparity has not gone unnoticed; 46% of UK consumers believe retailers offer different prices offline and online, while 68% have been deterred from making a purchase in-store because they considered the cost too high.
But, perhaps unsurprisingly, Displaydata has a solution in the form of digital displays, such as electronic shelf labels (ESLs), which it claims can ensure retailers get the right price, in the right place, at the right moment, to convert sales.
Andrew Dark, chief executive of Displaydata, said: "The ability to check prices anytime, anywhere has created a new mandate for retailers to offer value and consistency across all channels.
"ESLs provide retailers with the agility to create and execute new sales promotions and price changes in store in a matter of seconds. This empowers them to respond quickly to market variables and maximise profits."
Read complete article here:
Retailers urged to try digital pricing – Global Marketing Alliance.