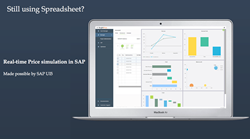 SPOSEA, a privately held company and software innovator in price optimization and management for the ERP and e-commerce software market, today announced the immediate availability of the BrightPrice DealManager solution suite on SAP® App Center through self-service, digitally enabled purchasing methods.
The BrightPrice DealManager suite of price management tools achieved SAP certification as powered by the SAP NetWeaver® technology platform, as well as for integration with applications on the SAP HANA® platform, in 2016. The solution integrates with SAP NetWeaver and SAP HANA, and delivers deal management, customer pricing quotation, price data maintenance and management, and real-time data science to help customers identify sales opportunities most likely to close, offers most likely to sell and prices most likely to win.
"The SAP App Center is an ideal digital marketplace to sell an offering like the BrightPrice DealManager solution suite," said SPOSEA CEO Anjo De Heus. "It will help customers to quickly access BrightPrice DealManager in a convenient, one-stop procurement experience and leverage its features and functionality quickly and easily. And offering it on the SAP App Center will allow us to increase our brand awareness in a key target market."
SPOSEA BrightPrice DealManager is gaining popularity in the price management and optimization market, and because of its ongoing success, SPOSEA has decided to step up its efforts to increase its visibility in the software market by making its solutions available through SAP App Center.
Read complete article here:
SPOSEA Announces the Immediate Availability of the BrightPrice DealManager Solution Suite on SAP® App Center.