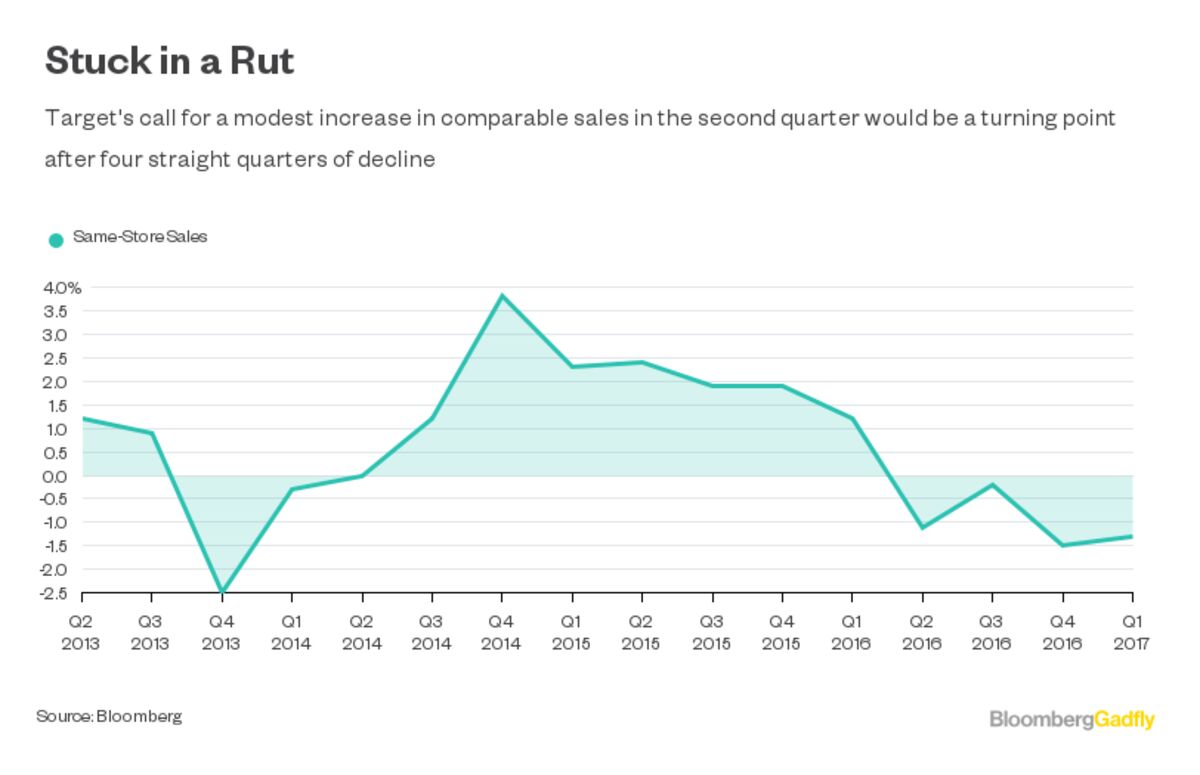 The irony is that what seems to be working for Target isn't a besting of Amazon at its own digital game, but rather a refocusing on retailing staples such as pricing, store remodeling and the launch of exclusive brands. In the press release announcing the boosted guidance, there isn't one mention of "digital," "online" or "e-commerce." Investors seem to be taking this turn of events as a sign that maybe things aren't quite so dire for big-box retailers: Target jumped about 4 percent in early trading, while Wal-Mart Stores Inc., Kroger Co. and Costco Wholesale Corp. also climbed.
Not so fast, though. Target has chalked up much of its recent struggles to a messaging problem: It talked too much about fashion and home decor, while perhaps not reminding consumers enough that it also was a destination for consumer staples at low prices. This shift in strategy is a re-calibration of CEO Brian Cornell's plans for the chain when he took over in 2014. Back then, he wanted to de-emphasize the "Pay Less" part of Target's "Expect More, Pay Less" slogan. This latest flip-flop does seem to be working, but there was a reason that Target backed away from it in the first place  — and it's worth wondering how long the sales pop will last.
Target's chic and unique fashion, furnishings and kid gear gave the chain its distinctive "Tar-zhay" luster. This focus on low prices makes it increasingly look like just another retailer trying to duke it out in a very competitive industry. Amazon and Wal-Mart also sell goods on the cheap and have more developed e-commerce operations. Without something more to differentiate it, what reason do customers have to prioritize Target? Amazingly, Target earlier this year said it would build a store in New York City's Herald Square, even as it shut down parts of its Silicon Valley operations. That's not a winning bet in a world that is hurling fast toward a digital future.
Read complete article here:
Target's Back-to-Basic Approach Works for Now – Bloomberg Quint.