TWIP is a digest of pricing focused news, thought leadership, events, jobs, training and certification resources for pricing professionals.

This Edition is brought to you by:

Currently, PPS produces three major annual pricing conferences in Europe and North America. Each conference also houses a technology hall where sponsors display the latest in Pricing Solutions software. PPS also offers more than two dozen, full-day training workshops every year, taught by leaders in the pricing community. These workshops serve as the foundation for PPS's Certified Pricing Professional (CPP) designation, our state of the art pricing certification program. Candidates may be certified after mastering a multi-stage curriculum followed by rigorous testing. Successful CPPs have acquired the core knowledge which not only places them in the top rungs of the pricing field, but also gives them the tools to enhance substantially their own careers.

Click a link below to learn more…

Vail Resort's "Epic Pass" changed the ski industry when it was first released a decade ago–I would argue, for the better–even though it was directly coupled with massively more expensive day passes (sometimes 2x prior prices). Since it first launched in 2008, the pass has grown, and as a result, the pricing structure became more […]
Tags: 
Artificial Intelligence
, 
Behavioral Psychology
, 
Customer Segmentation
, 
differential pricing
, 
Dynamic Lift Ticket Pricing
, 
Dynamic Pricing
, 
machine learning
, 
Price Changes
, 
Price Increases
, 
Price Optimization
, 
Price Setting
, 
Pricing Model
, 
Pricing Psychology
, 
Pricing Science
, 
Pricing Strategy
, 
Pricing Technology
, 
Product Bundling
, 
Product Pricing Strategy
, 
Revenue Management
, 
Ticket Pricing
, 
Willingness to Pay
Tesla has done a partial U-turn on a retail-strategy shift—unveiled less than two weeks ago—that was to involve the closure of most of its stores, in a bid to go "online only." In a blog post late Sunday, Elon Musk's electric-car outfit said it had decided to keep "significantly more" stores open than planned, and […]

Distribution pricing reform will bring disturbing price shocks Originally published in Energy and Environment on February 28 The Electricity Authority has been warned sudden implementation of more efficient electricity distribution pricing will bring "disturbing" price shocks for many customers. The EA is currently considering submissions on its proposals to speed up distribution pricing reform and […]
Generated by pixel @ 2019-03-11T03:38:31.456995Germany legislators have succeeded where the US has failed: reining in a misleading Tesla marketing campaign that massively underinflates the price of the Model 3. While America controversially shied away from chastising Tesla's recent price listing, which sliced the estimated cost of fuel savings off the sticker figure, Germany has pushed […]
NEW DELHI: In a big blow to the world's biggest planemaker, US President Donald Trump on Wednesday announced a plan to ground all Boeing 737 MAX aircraft. "We're going to be issuing an emergency order of prohibition regarding all flights of the 737 MAX 8 and 737 MAX 9," Trump told reporters in the White […]
In Arizona, two bills are on a collision course in the state legislature, and the outcome could directly affect your next car rental. It's a drama that's playing itself out in at least 30 other states, part of what one lobbyist called a "brutal" regulatory battle pitting legacy car rental companies against peer-to-peer car sharing […]
Drivers in the capital pay an average of £219,000 for a spot to park their car, new research reveals. This is almost enough to buy a home in the rest of the UK, where the average house price is £230,776. A standard parking space measures 7.9ft by 16ft, putting the average cost of buying parking […]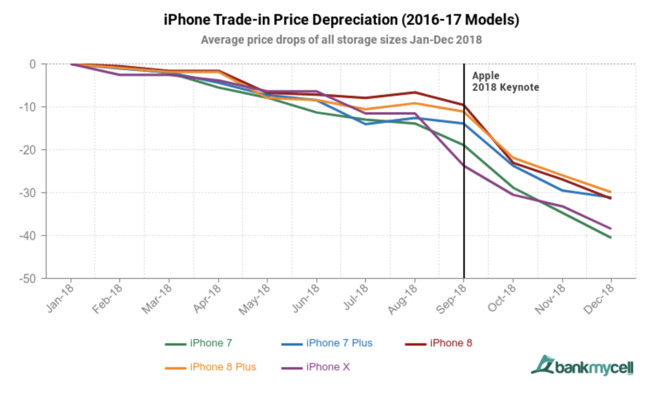 Despite concerns voiced about the price of iPhone X, Apple's modern Face ID models have proven to be the company's most popular phones. In part, that's because buyers know they can invest in the latest iPhone and later resell it to buy the next new model, because iPhones retain a resale value much better than […]
Since low-priced smartphones are often perceived as low-quality, Xiaomi's CEO Lei Jun has decided to raise the prices of the future Xiaomi handsets. Consumers can expect future Xiaomi phones to fetch more than RMB 3,000 or roughly $450. Currently, the average price of Xiaomi phones is around $300, which is what entry-level phones from other […]
Really good branding is hard. The ability to craft a combination of tangible and intangible assets that can become a powerful feeling internalized by your customers is not easy. If it was, everyone would build a great brand. To be clear, there are great brands for which we believe there is no substitute and then […]

This webinar looks at how pricing should play an integral role in international market launches and how willingness-to-pay research can help optimize the prices in each market.
Imagine a US company wanting to export to Germany: should the German price be just the USD price converted into Euros? It could, but it is likely that German customers have a different willingness-to-pay than US customers, and thus a straight conversion would either lead to a price that is too high, or possibly too low. Both cases lead to loss of profits. So by how much should the price vary when launching there? Price research can tell you, so you don't have to guess.
While old-fashioned market research would have taken months and cost a small fortune, PriceBeam's cloud-based willingness-to-pay solution changes all that. Not only can it deliver results in just a few days, but it is also very cost effective as it runs via the cloud. Furthermore, PriceBeam's price research is available in 109 countries world-wide.
Artificial intelligence, machine learning, and automation are rapidly transforming every part of global commerce — including pricing. From retail giants like Amazon to on-demand services like Uber to leading airlines, hotels, and car rental agencies, forward-thinking companies are using AI to turn data into massive returns. This rapid shift is creating opportunities and confusion. To remain competitive in an increasingly AI-driven world, immediate action is critical.
This presentation focuses on the latest generation of AI technologies currently being utilized by companies around the world to match their supply with ever-evolving consumer demand, given changing marketplace factors and consumer behaviors.
ATTENDEES WILL LEARN
How companies can develop an AI pricing strategy and get buy-in from their entire organization
How to build a framework for their unique needs, or leverage existing frameworks for success
How to create consistently achievable revenue goals with AI pricing
More firms and their pricing leaders are adopting value-based pricing every year. Research shows increased adoption of this progressive pricing orientation moving from 17% in 2008 to about 25-30% in 2018. Part of the deployment process of value-based pricing is the implementation of the Economic Value Estimation (EVE®) process to quantify differentiation value before it can be communicated to customers and capture from them. While adoption of value-based pricing is increasing, pricing professionals still face difficulties across their organizations. In fact, the EVE® process can be fairly mechanical and, with proper training, can be understood fairly rapidly. The challenge remains therefore what to do with the value models and calculated data.
In this unique workshop, we review the latest science on value-based pricing and the EVE® process. We also review how to operationalize the outcome in value-based innovation, value-based marketing and value-based selling strategies.
ATTENDEES WILL LEARN
How to operationalize value-based pricing and EVE® in your day-to-day business
How to practically link value-based pricing with innovation, marketing, and selling
How to respond to challenges in deploying the EVE® and value quantification process
We are excited to announce we'll be in Atlanta, GA for our 30th Annual Spring Pricing Workshops & Conference May 7-10, 2019! You can register now and take advantage of our Early Bird Offer (Buy 2 Get 1 Free, expires March 29th).

This webinar looks at how pricing can and should play a more integral role in New Product Development (NPD) instead of being an afterthought once the product is already designed and produced.
Participants and viewers will learn about:
How to use pricing and willingness-to-pay research to create new products or services that have higher success rates once launched
How to integrate willingness-to-pay research in the product design process
How to better understand what prospective customers actually value, and what they don't value
How to test different concepts for market viability and ability to achieve solid prices in the market place.

In today's ever-evolving world, data and software driven strategies are imperative to creating sustained commercial success.
Computers are more adept than humans at sorting through data with complex variables such as frequently fluctuating costs, rapidly evolving pricing models, and shifting customer priorities. Modern pricing software solutions, powered by advanced algorithms and machine learning techniques, enable businesses to constantly analyze data on an unparalleled scale and drive decision making based on data.
In this PPS webinar, Vistaar's Director of Product Management, Dushyant Zutshi, discusses how advanced algorithms and machine learning techniques drive intelligent pricing and sales strategies for success in the data-driven world.

Watch CEO of Perfect Price, Alexander Shartsis, discuss machine learning and pricing with the Professional Pricing Society (PPS).
PPS is the world's largest association of pricing professionals, and usually asks tough questions!
Value-Based Pricing is considered a superior strategy for most industries and businesses. But it also requires a solid foundation of data and market insights. In this webinar we will take an in-depth look at the powerful insights that can be created through price research, in particular using conjoint analysis
Participants and viewers will learn about:
How Value-Based Pricing can be supported with price research
Different price research methods
How Conjoint Analysis can provide powerful insights and support for a Value-Based Pricing strategy
Tips and tricks for running a conjoint analysis price research project.
Join 1,000's of your peers in the our LinkedIn discussion group. The group features informative pricing strategy and technology focused news, events, resources, thought leadership, cartoons, quotes, and discussions about the latest pricing strategy, tactics, and tech successes and failures in the news.
"The single most important decision in evaluating a business is pricing power," Buffett told the Financial Crisis Inquiry Commission in an interview released by the panel last week. "If you've got the power to raise prices without losing business to a competitor, you've got a very good business. And if you have to have a prayer session before raising the price by 10 percent, then you've got a terrible business."