This Week in Pricing is a recap of the week's best pricing focused news, strategy expert and technology leader's thought leadership, industry news and events, and resources for pricing professionals.

This Edition is brought to you by: 
Wiser provides a complete suite of solutions to give retailers, brands, and manufacturers the edge to stay both competitive and most importantly, profitable. Wiser's flagship product is WisePricer, a full-featured dynamic pricing and merchandising engine that monitors, analyzes and reprices retail products in real-time. WisePricer enables retailers to boost profit margins and revenue, price with confidence, and improve merchandising through powering the development of a sound pricing strategy. Wiser also offers a MAP monitoring solution, WiseMapper, for brands and manufacturers to monitor and protect their pricing across the thousands of retailers selling their products.
Click a link below to learn more…
With a realistic pricing strategy, GSK will use its vaccine, over-the-counter health care, and prescription-drug divisions to "swim with" that global tide rather than against it, Witty said. "Going forward, the anxiety and pressure on this industry will only increase," Witty said. "The ability of companies to achieve super-high prices, for product after product, in […]
If you read what Peter Drucker had to say about competition back in the late '50s and early '60s, he really only talked about one thing: competition on price. He was hardly alone — that was evidently how most economists thought about competition, too. It was this received opinion Michael Porter was questioning when, in […]
Lesson: Price does have an influence on how people think. Know your value and don't feel like you need to be "cheap" because you will not be doing yourself any favors. If anything, you might be perceived as less attractive by customers and prospects. Note: this is different from discounting which can be a powerful […]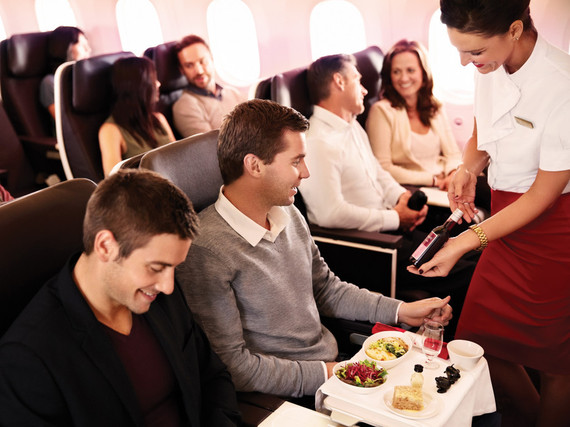 How much would you pay to upgrade your next flight? Online auction system Plusgrade lets you bid against other passengers for a better seat. But it's not as simple as it sounds. Want to move from coach to business–and name your own price? Thanks to Plusgrade, that might actually be possible. Around 30 international airlines, […]
1. Your online profile could boost the price. Online re­tailers know all kinds of things about you from the electronic bread crumbs you drop, such as your IP address, and they capitalize on it using price discrimination or differential pricing. For example, a site may charge higher prices after taking note of the Web browser […]
When asked what he wishes he'd known before starting up, Neil Patel, co-founder of Web analytics start-up Crazy Egg, answered: "I wish I knew how to price test. When we first released the product, we based pricing based off of what we wanted to charge, versus optimizing price to achieve maximum revenue and profitability." Chances […]
Last year, we saw Amazon, Google, and Microsoft battle it out in a race to the bottom for cloud pricing. After a relatively quiet 2015, Google has restarted the transformation of cloud services to commodity priced services. Google stated that the company is reducing the prices of all Google Compute Engine Instance types. Indeed, Google […]
What's needed is a pricing strategy and tactics to back it up. These days, the only way to achieve that kind of optimization is through automation. More than half of retailers surveyed last year have plans to implement automation in their pricing optimization strategy. In 2013, 36 percent planned the same move; in 2015, the number […]
Diamond prices "De Beers has been too aggressive," Anish Aggarwal, a partner at Antwerp-based industry consultant Gemdax, said. "You cannot sustainably price above the market and supply and demand fundamentals, and they've done that now for at least three quarters." As De Beers raised its prices, the market has declined. Rough diamond prices fell 1.2 […]
"Price optimization," a practice that uses predictive modeling and data analytics in pricing insurance products, continues to draw the attention of state regulators, consumer advocates, and class action plaintiffs. Last week, Indiana and Florida issued statements questioning certain "price optimization" practices, while the National Association of Insurance Commissioners' (NAIC) Casualty Actuarial and Statistical (C) Task […]
Travelers complaining about the price of airline tickets may have been taking solace in the fact that a rental car has still been pretty inexpensive to hire. Hertz Global Holdings Inc. is set to change all that. Starting next month, the company will raise U.S. airport retail car-rental fees by $5 a day and $20 […]
When it comes to group housing, meeting planners and hotels have opposing goals. While the former want to obtain as many rooms as possible for the lowest rate, the latter want to fill as many rooms as possible at the highest rate. The solution, according to a new white paper: a "dynamic flex pricing" housing […]
Gilead gets support from two shareholder advisory firms, Glass, Lewis & Co. and Egan-Jones Ratings Co, against a proposal by UAW Trust calling for disclosure in drug pricing, a day before it is put to shareholder vote Gilead Sciences, Inc. (NASDAQ:GILD) continues to remain under fire for exorbitant pricing of its hepatitis C drugs, Sovaldi […]
Mike Apri went to pay his green fees at Whispering Pines Golf Club in Pinckney, and it was $18 for a round of golf. Another time, it was $25. He played again Monday, and it was $21. "I've never really heard of (dynamic pricing)," said Apri, 52, who lives in Pinckney and plays golf about […]
Ekkehard Stadie and Kajetan Zwirglmaier, consultants at Simon-Kucher & Partners, explore how operators can counter the effects of declining prices and product development challenges. The recently released 'Global Pricing Study' from Simon-Kucher & Partners revealed that 72 percent of all new products are a commercial flop. Or put another way: only one-third of telco operators […]
The memo, circulated to the state's insurers, said optimization "involves analysis and incorporation of data not related to expected cost for risk characteristics. For example, such data may include the prior year changes in premium and whether policyholders renewed subsequent to such change. Therefore, the use of price optimization results in rates that are unfairly […]
Joe Greco, who's been churning out cookies and cakes for 27 years, usually uses about 600 pounds of liquid eggs a week at his bakery near Chicago. Now, his freezer has seven times that amount because Greco worries that record prices are about to go even higher. The cost of breaker eggs – those cracked […]
Meanwhile, Whole Foods is seen as being too expensive. The grocery chain responded by lowering some prices; however, JPMorgan analysts say the company isn't doing enough to market bargains. This means customers most likely don't realize that Whole Foods is getting cheaper. Competitors like Trader Joe's, Aldi, and Kroger are able to offer cheaper prices […]
The Bills today announced their variable ticket pricing plan for the 10 home games at Ralph Wilson Stadium. There are two preseason games, Aug. 14 vs. Carolina, and Aug. 29 vs. Pittsburgh. Prices for those games range from a high of $80 for 100 level sideline seats (approximately 30-yard-line to 30-yard-line) to a low of […]
A November article on Forbes.com noted that, "Amazon's pricing strategy makes life miserable for the competition." Indeed, with frequent daily price changes on tens of millions of products, it's easy to see why. So how can retailers compete? Price matching is a losing battle, but these three pricing strategies can help retailers keep up and […]
Washington D.C., May 14, 2015 — The Securities and Exchange Commission today charged Nationwide Life Insurance Company with routinely violating pricing rules in its daily processing of purchase and redemption orders for variable insurance contracts and underlying mutual funds. Nationwide agreed to settle the charges and pay an $8 million penalty. Pricing rules for mutual […]
When: June 3 2015 2:00 PM Eastern
Register to attend our webcast where Kevin Mero, MBA, PMP, Project Manager at Equipment Depot, will share their journey to pricing excellence and how they are leveraging science-based strategic pricing tools to stop undisciplined discounting. To implement a solution that enhanced profitability, developed pricing discipline, and removed emotion from the pricing […]
When: June 12, 2015
Where: Las Vegas, NV at the Vdara Hotel & Spa at Aria
Learn how leading manufacturing and distribution executives have unlocked the keys to faster growth, stronger customer relationships, and market-leading profitability with SPA's proven strategic pricing processes and technology. Event Overview Equal parts strategy and practical tactics, this complimentary Strategic Pricing Executive Overview event […]
---
The following is a daily-dose of pricing cartoons and quotes, enjoy…
– – – – – – – – – – – –
"Pricing is actually pretty simple…Customers will not pay literally a penny more than the true value of the product."
     – Ron Johnson
Explore our archives of valuable pricing resources including:
The ecommerce industry is extremely competitive, and it can be difficult for smaller retailers to keep up with giants like Amazon and Walmart. Retailers of all sizes have to compete with big box retailers every day, a difficult feat seeing that Amazon changes its prices as often as every 10 minutes. However, a dynamic pricing […]
This blog series provides a forum for pricing professionals to share their insights and experience. Our guest bloggers share their knowledge about specific product or industry challenges, geographic complexities, strategies, tactics, and technologies.
Check out some recent additions…
This blog category offers a collection of top pricing related conversations on LinkedIn or in the comments section of pricing related blogs and articles.
Check out some recent favorites…
Join 1,000's of your peers in the our LinkedIn discussion group. The group offers a place to share the latest pricing strategy and technology, news, events, resources, thought leadership, and discuss the latest pricing related successes and failures in the news.