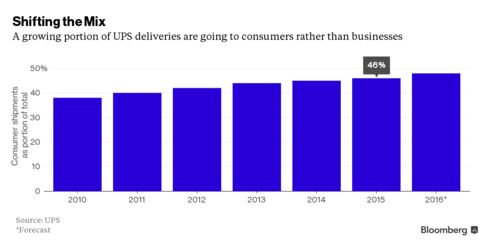 United Parcel Service Inc.'s profit is likely to climb well beyond analyst expectations this year, helped by a new pricing strategy and the use of technology to make e-commerce more profitable.
…
UPS has turned to a mix of technology and new pricing methods to help make e-commerce and the broader business more profitable.
A vehicle-routing system takes much of the guesswork out of how UPS drivers run their routes, plotting the best path from Point A to Point B. The system, called ORION, will be fully implemented by next year, the company said Tuesday. Another initiative, Access Point, aims to reduce failed delivery attempts by dropping off packages at a store near the recipient in some neighborhoods.
Pricing Changes
UPS, as well as rival FedEx Corp., also created a new pricing system that charges customers based on a package's shape, rather than just its weight. Big boxes incur high fees even if the items inside are lightweight. That has encouraged shippers to use smaller packages, taking up less space in of UPS vehicles, Chief Financial Officer Richard Peretz said on the call.
Efforts to make e-commerce more profitable are closing the profit gap between business deliveries and residential ones, he said.
Read complete article here:
UPS Sees 2016 Profit Rising as E-Commerce Strategy Pays Off – Bloomberg Business.