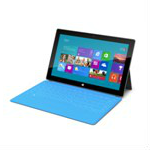 Global tablet pricing trends and sales trends moved in opposite directions in 2Q 2016, according to Strategy Analytics. Tablet shipments dropped 8 percent year-over-year (YoY) to total 46.7 million units in 2Q while average selling prices (ASPs) rose 9 percent, according the latest market data from Strategy Analytics.
Both consumers and enterprise-scale businesses are buying more high-end tablets, such as the iPad Pro and Surface Pro 4, Strategy Analytics' Eric Smith highlights in a company blog post. Prices for premium tablets are coming down as end-user needs and usage shifts more towards mobility and touchscreen interfaces, according to the market research provider's ¨Preliminary Global Tablet Shipments and Market Share Q2 2016¨ report.
Tablet Pricing Trends
2Q's tally marked the tenth consecutive YoY quarterly decline in global iPad shipments, which garnered a 21.3% market share, down 9% YoY, according to Strategy Analytics. Android tablets' share of 2Q global shipments came in at 64 percent, clear evidence that consumers continue to see value in low-cost traditional slate tablets used primarily for entertainment purposes, the market research provider says.
Downward pressure is being exerted on 2-in-1 tablet ASPs in the midst of their rise, Strategy Analytics notes in a press release about tablet pricing trends. Consumers and enterprises are increasingly considering buying 2-in-1 tablets rather than replacing their desktop and portable computers or buying a new slate tablet, but they're looking for lower prices without sacrificing processing power and mobile connectivity.
Read complete article here:
Research: Tablet Pricing Trends Higher Even as Sales Decline – Telecompetitor.